American Standard AccuComfort™ Platinum 19 Low Profile Heat Pump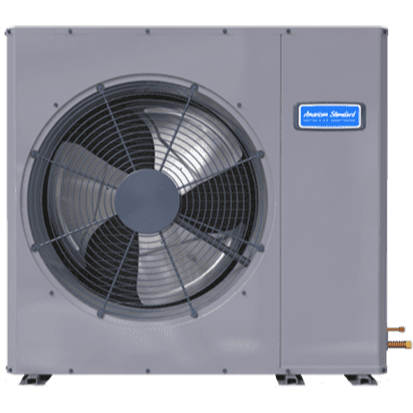 Our Quietest Heat Pump
Get great noise control for outdoor living spaces, bedrooms, condos, hotels, and more. The fan's noise level, 43 to 57 dBA, provides peaceful comfort for optimal living.
Ideal for Tight Spaces
Our preferred compact heat pump is quiet and ideal for condos or tight spaces near patios or decks, providing both cooling and heating for year-round energy savings.
Reliable Comfort
This system gives you comfort by running at the speed your home needs to stay comfortable. This allows the variable speed compressor, outdoor fan, and indoor fan to vary their speed as the temperature outside changes, slowing down or speeding up gradually when needed.
AccuComfort™ Technology and Efficiency
AccuComfort™ technology provides 300 to 700 stages, or speeds, that change based on your home's heating and air conditioning settings. Working in conjunction with your thermostat, it keeps the appropriate temperature air circulating throughout your home for optimal performance.
The Hybrid System Advantage
Pair your heat pump with a gas furnace to enjoy the benefits of a hybrid system. Once your heat pump reaches its heating capacity, your gas furnace steps in to keep you comfortable. Together, they offer you reliable comfort that could lower your energy costs.