American Standard AccuLink™ Platinum 1050 Smart Thermostat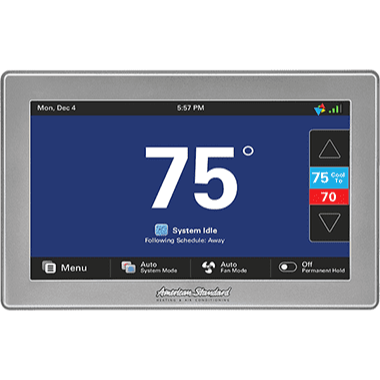 Communication Technology
The AccuLink™ Platinum 1050 is compatible with American Standard AccuLink™ Communicating System and AccuComfort™ Variable Speed Systems to give you control over your home comfort system. Enjoy communication technology that allows your home systems such as lights, security, HVAC, and more to all be controlled by the touch of a button.
Humidity Control
Unregulated levels of humidity inside can lead to health problems for you and structural problems for your home. This thermostat works to keep optimal levels of humidity in your home and reduce these issues with a built-in humidity sensor that alerts the system when indoor humidity is too low or too high.
Alerts You Can Count On
Not only does this thermostat tell you the temperature in your home, it also gives you a five day forecast and alerts for the weather outside. Plus, it gives you maintenance and filter service reminder alerts as well, so you can help ensure your product stays in peak performance condition.
Zoning Capabilities
Create multiple temperature zones all within your home with this thermostat. This feature is great for families who have different temperature needs, or homes that have some rooms that aren't in use as much as other rooms.