American Standard Energy Recovery Ventilator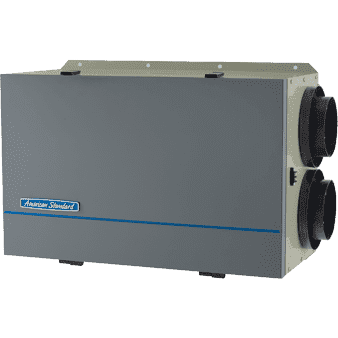 Fresh Indoor Air 'Round the Clock
The Energy Recovery Ventilator replaces stale indoor air with fresh, filtered air from the outside to provide a healthier living solution.
Year-Round Comfort
The Energy Recovery Ventilator retains heat and moisture from air in winter, but dehumidifies incoming air in summer, so your home is more comfortable in every season.
Efficiency Provides Savings
The Energy Recovery Ventilator recycles energy by reusing the otherwise-wasted energy and humidity. This can lower the demand on your HVAC system and lower your energy bills.
Quality Materials
All component materials in our ventilators are rigorously tested for long-lasting performance and durability.