American Standard Gold 15 Gas/Electric Packaged System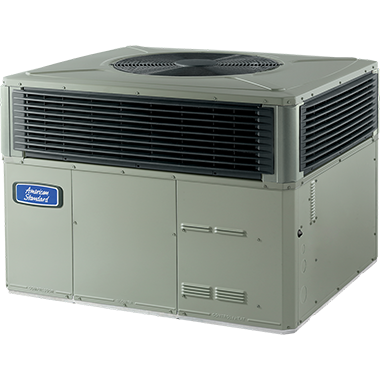 Efficient Performance
The two-stage Duration™ compressor provides two stages of heating and cooling for a higher level of efficiency than most single-stage compressor units. It runs at 70% capacity most of the time, but steps up to the second stage on the most extreme days to provide efficiency in temperature control.
Improved Indoor Air Quality
This packaged unit system is compatible with the American Standard AccuClean® Air Cleaner (horizontal applications only) which can optimize air in your home. This air cleaner helps remove allergens, bacteria, and certain viruses from the air you breathe in your home.
Quiet Performance
As one of the quietest packaged units on the market, you can count on this system to deliver the temperature control you desire with a performance so quiet, you might not even know your system is turned on.
Humidity Control That Helps
With precise humidity control features, this packaged system helps remove unwanted humidity from the air in your home. Unregulated humidity levels indoors can result in problems for both your health and your home, which is why this system works to keep humidity at optimal levels.