American Standard Silver 302 Thermostat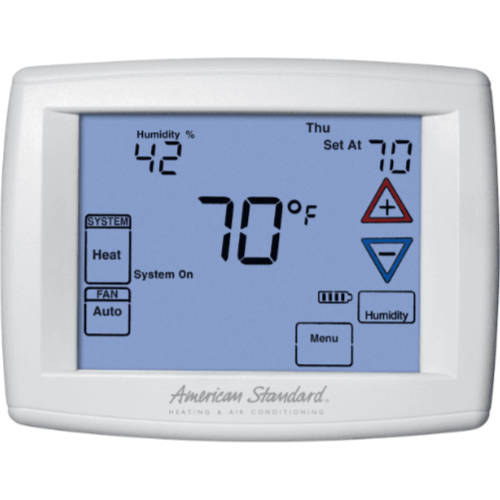 Digital Touchscreen
Experience a large touchscreen on this thermostat that makes it easy to see and easy to use all year long. Controls are simple and work efficiently to get you the temperature you desire.
Scheduling Capabilities
Program your temperature schedule exactly how you want it with the scheduling capabilities on the Silver 302 thermostat. Capabilities include 7 day programmable or 5-1-1 day programmable.
Alerts You Can Count On
Not only does this thermostat tell you the temperature in your home, it also gives you maintenance and service reminder alerts as well. To help ensure your product stays in peak performance condition, it will let you know when it needs a filter change or a new humidifier pad.
Easy Installation
Enjoy an easy installation after purchasing the Silver 302. This thermostat can quickly and efficiently be installed almost anywhere in your home, and once it's turned on, setup only takes a few clicks.