American Standard AccuClean™ Whole-Home Air Cleaner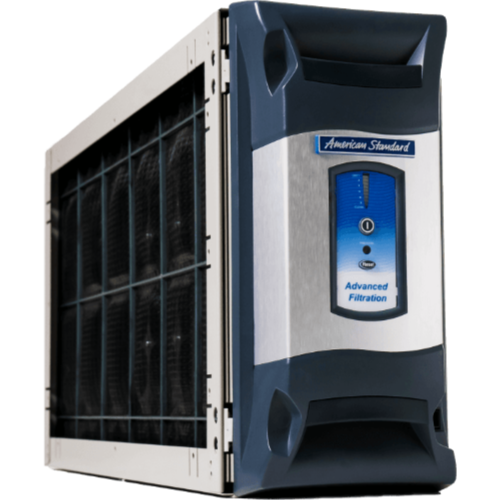 Superior Filtration
Catches particles down to .3 micron in size and works in conjunction with your heating and cooling system to remove up to 99.98% of allergens from the filtered air to give you the superior air quality you deserve.
Indoor Air Pollutant and Virus Protection
AccuClean® Whole-Home Air Cleaner has been documented in an independent testing environment to remove more than 99% of the air pollutants, including the surrogate for the virus that causes COVID-19 within 30 minutes, and the Influenza A (H1N1) virus.
Microscopic Particle Action, Healthier Living
AccuClean® Whole-Home Air Cleaner brings air purification to a whole new level by effectively reducing the presence of potential asthma and allergy-related triggers in your home, including dust, pollen, pet hair and dander, dust mites, mildew, lint, fungus, most tobacco smoke, cooking grease, and even certain bacteria.
Asthma & Allergy Friendly® Certified by the Asthma and Allergy Foundation of America®
This certification identifies products suitable for people with asthma and allergies. The asthma & allergy friendly® Certification Mark is awarded only to those products that that are scientifically proven to reduce exposure to asthma and allergy triggers.
Zero Ozone Verification
The AccuClean® Whole-Home Air Cleaner is verified by Intertek Sustainability as a zero ozone product. This endorsement signifies that the air cleaner's ozone emissions are below the federal requirements in the United States, meaning the AccuClean Whole-Home Air Cleaner is good for both your indoor home and outdoor environment.