American Standard Gold 824 Smart Thermostat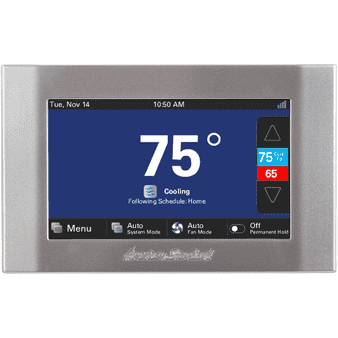 Easy Installation
Enjoy an easy installation after purchasing the Gold 824. This thermostat can quickly and efficiently be installed almost anywhere in your home, and once it's turned on, setup only takes a few clicks. Not to mention, there's upgradable software to enhance your temperature control experience.
Humidity Control
Unregulated levels of humidity inside can lead to health problems for you and structural problems for your home. This thermostat works to keep optimal levels of humidity in your home and reduce these issues with a built-in indoor relative humidity display that shows when indoor humidity is too low or too high.
Alerts You Can Count On
Not only does this thermostat tell you the temperature in your home, it also gives you a five day forecast and alerts for the weather outside. Plus, it gives you maintenance and filter service reminder alerts as well, so you can help ensure your product stays in peak performance condition.
Scheduling Capabilities
Program your temperature schedule exactly how you want it with the scheduling capabilities on the Gold 824 thermostat. Capabilities include up to four daily heating and cooling periods.