American Standard Silver 203 Thermostat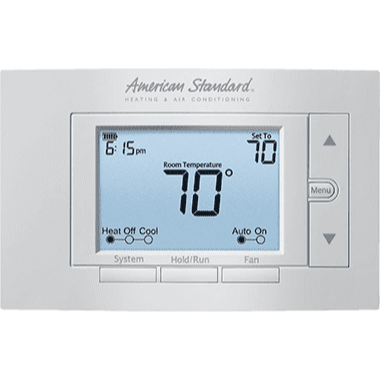 Simple Controls
This traditional thermostat is easy to program and simple to use. Featuring push button controls and a large, bright screen, it's easy to ensure your home is exactly the temperature you want without any confusion.
Scheduling Capabilities
Program your temperature schedule exactly how you want it with the scheduling capabilities on the Silver 203 thermostat. Capabilities include a seven day or 5-1-1 day schedule for different temperatures on the weekends.
Easy Installation
Enjoy an easy installation after purchasing the Silver 203. This thermostat can quickly and efficiently be installed almost anywhere in your home, and once it's turned on, setup only takes a few clicks.
Automatic Climate Control
The Silver 203 thermostat automatically switches between heating and cooling functions depending on the season to maintain comfortable temperatures year round.