American Standard Silver 303 Thermostat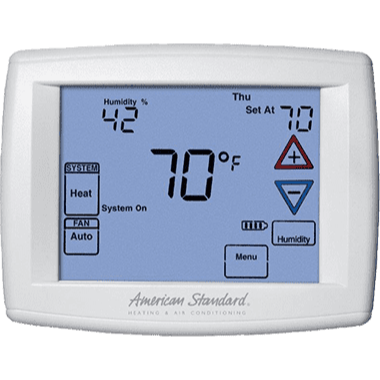 Scheduling Capabilities
Program your temperature schedule exactly how you want it with the scheduling capabilities on the Silver 303 thermostat. Capabilities include a seven day or 5-1-1 day schedule for different temperatures on the weekends.
Digital Touchscreen
Experience a large touchscreen on this thermostat that makes it easy to see and easy to use all year long. Controls are simple and work efficiently to get you the temperature you desire.
Alerts You Can Count On
Not only does this thermostat tell you the temperature in your home, it also gives you maintenance and service reminder alerts as well. To help ensure your product stays in peak performance condition, it will let you know when it needs a filter change, a new humidifier pad, or UV lamp.
Humidity Control
Unregulated levels of humidity inside can lead to health problems for you and structural problems for your home. This thermostat works to keep optimal levels of humidity in your home and reduce these issues by controlling a whole house humidifer.